DISCLOSURE: THIS POST MAY CONSTAIN AFFILIATE LINKS,MEANING I GET A COMMISSION IF YOU DECIDE TO MAKE A PURCHASE THROUGH MY LINKS, AT NO COST TO YOU. PLEASE READ FULL DISCLOSURE HERE
Are you looking for the best investment apps that you can use to invest and grow your wealth?
Investing is something that I strongly advise people to starting doing as early as possible.
In fact, one of my biggest regrets is that I didn't start investing in my early 20s.
Here's why.
From the graph, you can see that Susan would have more money than both Bill and Chris at the age of 65 even though Susan invests much less money than them (only one third of what Bill has invested in total and a quarter of what Chris has invested).
This is possible because Susan started investing 10 years earlier than Bill and Chris.
So, the earlier you start, the longer the power of compounding can work in your favor.
Now, to help you get started investing, I have compiled a list of best investment apps that allow you to manage and invest your money on your fingertips.
On this list, you will find investment apps that are best for beginner investors with a small sum to start.
You will also find free investment apps with no fees and also best automatic investing apps.
Let's not forget best investment apps to buy stocks, mutual funds and exchange traded funds.
Best Investment Apps For Beginner Investors
Robinhood (FREE)
Robinhood is a FREE investing app that allows you to make unlimited commission-free trades in stocks, funds, and options.
You can also buy and sell cryptocurrencies with Robinhood Crypto with zero commission.
If you don't have much money to start investing with, here's the good news.
Robinhood allows you to invest in thousands of stocks with as little as $1.
This is also what we call fractional shares.
It means that you don't have to buy one whole share – only a fraction of it.
Let me give you an example.
Google share is trading at around $1400 per share as of the time of my writing.
To buy just one Google share, it costs you more than one thousand dollars.
With fractional share investing, you can own parts of a whole share.
It gives you more flexibility to diversify your investment portfolio and reduce risk, especially when you don't have a large sum to invest.
The Stash app is more than just an investing app. It also offers banking accounts with no hidden fees and allows you to set up retirement accounts with them.
So, what is so good about Stash investment app?
On its platform, it carefully chooses every investment featured there, so you can have confidence investing your money.
Here are some of the investment asset classes they have available on its platform:
Stocks (usually companies with strong earnings)
ETFs ( usually low-risk, low-cost and tax-efficient stock ETFs, market index ETFs and bond ETFs)
Bonds (usually low-risk investment-grade bonds)
So, you can have easy access to good investment opportunities at your fingertips.
What is more is that Stash allows you to break whole investments down into smaller, more affordable pieces called fractional shares, so you can buy stocks and ETFs with as little as $5.
Again, this is great because it allows you to build a well-diversified portfolio even with a small investment sum.
If you want to invest your money on a regular basis, Stash allows you to set an automatic money transfer from your checking account to investment account.
Who should use Stash investment app?
If you are just a beginner investor with a small amount to invest and prefer a more hands-on approach to your investments, then Stash is perfect for you.
Is Stash a free investment app?
No. It offers three types of monthly plans to use its services.
Its basic plan starts with $1 per month which is really very affordable.
Right now, it's offering a FREE $5 sign-up bonus to new users which means you get to use its service for free for five months.
Best Micro-Investing App

Acorns is the only micro-investing app that allows you to invest spare change.
How does it work?
First, you need to link Round-Up accounts (i.e. your checking accounts, debit cards or credit cards) to your Acorn account.
There is no limit to how many checking accounts, debit cards, and/or credit cards you can link as Round-Up accounts.
Once it's linked, Acorns automatically rounds up your everyday purchases to the next dollar and invests the spare change for you.
For example, when you spend $15.10 on dinner with your credit card, Acorns will automatically round up your purchase to the next dollar (which is $16 in this case) and take the round-up $0.90 and save it.
When your Round-Ups across your linked accounts reach at least $5, Acorns will transfer that amount to begin investing for you.
If you have your spare change invested instantly (i.e no more $5 minimum), Acorns also offers real-time round-ups.
To make that happen, you need to get Acorns Spend account which is basically an Acorns checking account with a debit card.
Real-time rounds-ups will be pulled from your Acorns Spend account and get invested instantly with each transaction.
How does Acorns invest your money?
It automatically lets you invest in a portfolio of ETFs.
Your investments are then diversified across more than 7,000 stocks and bonds, and Acorns automatically rebalances your portfolio to stay in its target allocation.
How do you get started?
Simply download the Acorns App and follow the instruction to set your account up. 
It is very simple and fast. (Only takes about 5 mins to set it up)
Does it charge any fees?
Yes, there is a small flat fee of $1 every month for just using the "Acorns Invest" plan, which I think is very reasonable and affordable.
Best Investment Management App (For Wealthy Investors)
Personal Capital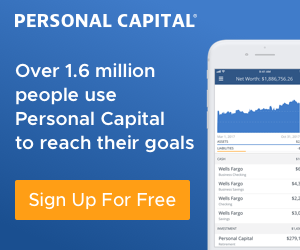 If you have a large amount of money you can invest and you want a more holistic approach to your wealth management, then personal capital is the right choice for you.
With personal capital, you can see all of your banking and investment accounts in one secure and convenient place.
Get a 360-degree view of your money
Set up and track your budget
Keep an eye on your investments
Plan for your retirement
If you qualify, schedule a call with one of their fiduciary advisors.
What I like the most is that it gives you a full picture of your finances in one place.
This is very useful because many people don't even know how much accounts they have, let alone how much money they have across all their banking accounts, investment account and retirement accounts.
Now, this is going to change because Personal Capital makes it super easy and convenient for you to stay up to date with your investments.
It also allows you to plan and make appropriate decisions to achieve your financial goals.
So, how does Personal Capital app work?
It works in four steps:
Step 1: Link your accounts
First, you need to link all of your external financial accounts (IRAs, 401ks, mortgages, loans, credit cards, checking, and savings) to get a comprehensive view of your money.
Step 2: Talk to an advisor
You talk with one of their financial advisors. They will go over your investing strategies, net worth, spending habits, new goals, and life events.
If you're thinking about retirement, your financial advisor will help you with a personalized plan by showing you how to stay on top of your goals with their free Retirement Planner tool
Step 3: Make a plan
After your conversation, your financial advisor will go over your goals in detail and come up with a recommended comprehensive strategy—that's 100% free to do with as you wish.
Step 4: Start investing
If you like what you see from their recommendations, you can talk with a Personal Capital advisor to implement your personalized financial plan and start investing.
Can you trust Personal Capital?
So far, there are more than 2 million people using Personal Capital app and they have over 10 billions assets under their management. 
On TrustPilot, it has an average rating of 4.5 out of 5 stars.
Most importantly, they are a fiduciary, which means they are LEGALLY required to put your interests first. 
So, do they charge any fees?
Yes. 
They charge one all-inclusive annual management fee. The fees you are paying also depend on the amount of investment assets you invest with them.
For the first one million, you are charged a flat annual management fee of 0.89% with unlimited advice and retirement planning help from financial advisors
There are no hidden fees, no trailing fees and no trade commissions.
Best Automatic Investing Apps
Automatic investing apps are also called robo advisors.
How does it work?
Robo-advisors use technology to recommend a portfolio for you and automate the investment process .
The advantage of using an robo-advisor is that you don't have to actively invest and manage your money yourself, especially if you don't have any investing knowledge.
Here are three automatic investment apps that I recommend:
In terms of advisory fees, M1 Finance is free to use.
But, WealthFront and Betterment both charge the same annual advisory fee of 0.25%.
The fees are based on account balance.
So, if you have $10,000 invested with them, all you need to pay is $25 every year in advisory fees.
That is less than 10 cents a day!
Besides the annual advisory fees, are there other hidden fees?
No, there are no other fees that you need to pay them:
No additional trading fees ( i.e. no additional transaction fees to buy and sell securities)
There are no additional fees for depositing or withdrawing from your account
They rebalance your portfolio automatically at no additional cost to you
But, are there any fees that you need to pay to thrid party?
Yes, you will need to pay the fees that are charged by the funds (e.g index ETFs or Bond ETFs) that they invest your money in.
These fees are derived from the expense ratio of the fund.
Generally, automatic investment apps will select funds with the lowest expense ratios to help minimize your fees.
Are there any minimum balance for either one?
For betterment, there is $0 Minimum balance while for wealthfront, there is a minimum balance of $500.
Best Investment Apps For Experienced Investors
If you are an experienced investor, you will want to look at these investment apps with more advanced products, features and tools for your investment needs.
These investment apps are most suitable for experienced hands-on investors who want to do self-directed trading:
E*Trade
TD Ameritrade
Charles Schwab
AllyInvest
Compared to other investing apps, they offer more investment choices:
Commission-free stocks
Commission-free ETFs
Commission-free options
Bonds
Futures
Mutual funds
Margin account
I only recommend you to use these investment apps if you take a real interest in learning about investing and trading.